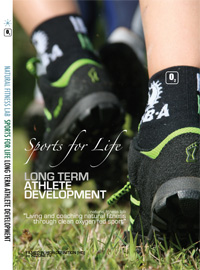 This product is based solely on keystone LTAD doctrine and it does not necessarily represent sport-specific interpretations of LTAD by individual National Sports Organizations (NSO). Please contact NSOs directly for their materials.
NEW!
Sports for Life
long term athlete development
DOWNLOAD IN HD $FREE
Instructional
Beginner to Advanced, 2hr

Sports for Life - Long Term Athlete Development (LTAD) is the model used to develop physical literacy from grass-root community programs to the Olympics. The model establishes the building blocks of fitness and sport for life. It identifies the fundamental sports skills and training methods. LTAD can accelerate the improvement in strength, power, endurance and the ABCs: Agility, Balance, Coordination, Speed essential for all developing athletes. The model firmly grounded in scientific exercise physiology. Learn how to take advantage of the windows of opportunity in training children based upon biological growth, and indicators of peak height and strength velocities. We are thrilled to have partnered with the founders of LTAD for this project. The video is highly recommended for coaches and young athletes of all sports.
XCZONE.TV produced a motivational kids video in 2004 that we sent to clubs in US and Canada for FREE. The feedback was great and urged us to create a more instructional product to help teach children. Meanwhile, the concept of Long Term Athlete Development was emerging. So in 2007, we reached out to a number of National Sports Organizations and the LTAD authors to combine efforts. The LTAD core manuals provided the narrative and we synchronized the video, to bring the concepts to life. We hope people will find it helpful, and all sports will benefit.