"Dave Mcmahon and Lise Meloche continue to push the limits of training with technology by producing the best video based tools out there! Gurus of nordic skiing and trail running, they continue to generously share their knowledge and passion for endurance sports- inspiring everyone to push their own boundaries!" – Ray Zahab, Ultra Marathoner
The perfect combination of trail running, snowshoeing and nordic skiing to build applied core strength, cardiovascular endurance, aerobic power, agility, balance, and confidence in a pragmatic and natural environment. Build power-endurance, core strength, coordination and high dynamic range of physical literacy in a group environment. Read the Reviews.


Natural Fitness Lab is a centre-of-excellence for outdoor athletes and adventure built around core technical competencies of: trail running, snowshoeing and cross-country skiing, and extending into winter triathlon, sky running, mountain running, adventure racing, cycling, ski mountaineering, obstacle racing, and ultra distance running.

With over two thousand members, the adult program is the largest and most comprehensive of its kind in Canada.

"Living and coaching natural fitness through clean oxygen fed sport."




TRAIL RUNNING is the perfect way to build applied core strength, cardiovascular endurance, aerobic power, agility, balance, and confidence in a pragmatic and natural environment. Free yourself from the roads and engage in a richer and more enduring experience. The program is perfect for running specialists, nordic skiers, adventure racers and multi-sport enthusiasts.

No registration required. Free.

Sessions are posted on www.trirudy.com under group training.

XC SKIING Achieve superior total-body conditioning with one sport. Eighty (80) expert-led sessions over 16 weeks. Registration open 01 Oct.

COST STRUCTURE
$100 XC Ski Training and Coaching Sessions
FREE for students for the year
$10 drop-in fee for XC Ski training
FREE Snowshoeing
FREE Skimo
FREE Trail Running

Safety – Understanding proper technique and training methodology will make you far more efficient within your sport. You will avoid injury and equipment damage.
Health and Fitness – First we need to be healthy before we can become fit. Then, there is a clear path towards enhanced fitness. You will lose weight and tone muscles along the way. There are no secrets or fads.
Motivation – Let's face it. We all need motivation from time to time. Pop in a DVD and visualize success, or join us for group training session.
Performance – Become a student of your sport. Listening to, watching, following and imprinting from experts is the best way to fast track your results. We address training and technique for all levels and abilities; from beginners to Olympians.
MISSION
To develop outdoor athletes.
VISION
We offer the perfect combination of outdoor sports to build applied core strength, cardiovascular endurance, aerobic power, agility, balance, and confidence in a pragmatic and natural environment. Our program builds power-endurance, core strength, coordination and a high-dynamic range-of-fitness within an inclusive group environment.
OUR MOTIVATION AND ETHOS
We are dedicated to creating significant opportunities for healthy outdoor lifestyle, promoting natural fitness, physical literacy and inspiring long-term athlete development through direct grass-roots community involvement and global campaigns for gender and age equality in sport, multilingual, multiculturalism, accessibility, science education, leadership and coaching.
VALUES
Physical and mental health;
Promote and practice inclusivity for all fitness levels and abilities;
Ensure equality in gender, age and accessibility;
Generate positive group dynamics;
Provide a safe and secure exercise environment and program;
Create opportunities in fitness and sport;
Encourage personal growth and creative freedom;
Engagement;
Advocating gender equality through sport
Inspire, challenge and foster a sense of wonder;
Individual agency;
Nurture the individual and team play;
Ensure a sense of belonging and encouragement;
Cultivate Supportive relationships;
Philanthropic;
Knowledge transfer;
Innovation in training; and
Create pathways to excellence.
OBJECTIVES
Support personal goals in health and fitness;
Foster long-term athlete development in the context of sport-for-life through participative coaching, imprinting and mentorship.
Attract, develop and retain top-talent in high-performance sport; and
Kickass.
DEFINING SUCCESS
We define success as:
Collective Enjoyment;
Realizing Individual Goals;
Achieving Personal Bests;
Attending Podium finishes; and
Overall Team Participation and Results.
BRAND
Attributes of Distinction
Centre-of-Excellence (CoE) in: Cross-Country Skiing, Trail Running, Snowshoeing, Biathlon, Winter Triathlon/Pentathlon, Obstacle Racing, Ski Mountaineering and Adventure Racing.
Cross-over sports: Cycling, Mountain Biking, Orienteering. et.al.
Brilliant X-training opportunities for what ever sport you are in.
Expert network of technicians, suppliers, safety teams, medical staff.
High-dynamic range training, natural fitness, and expert mentorship.
All-Season. All-Terrain. Multi-Sport Capabilities.
Competitive Differentiator
Largest inclusive adult trail running, snowshoeing and skiing club in the Country.
Most comprehensive high-performance program of its kind from entry level to the Olympics.
Sophisticated technical Instruction in Cross-Country Skiing, Trail Running, Ultra Running, Snowshoeing, Biathlon, and Winter Triathlon.
Mentoring by Top Talent (Olympians, World Champions, National Team, Pro-racers)
The dominant team in trail running, snowshoeing, winter triathlon, obstacle racing and long course XC skiing.
Spectacularly awesome Individual and team performances
Top Team Results: National Long Course Cross Country Skiing Championship, Winter Triathlon World Championship, World Snowshoe Championship, Premiere Road Races, National Mountain Running Championships and National Trail Running Series.
Impressively rapid improvement in fitness and skills.
Unique Value Proposition
Centre-of-Excellence for Outdoor Sports
Team of high-performance athletes;
Extensive network of professionals; and
Coaching expertise.
Natural Fitness Lab provides expert-lead coaching for: fitness, cross-training and high-performance streams. The programs are supported by: Best-selling instructional and motivational products for fitness training, technique and sports psychology. Personal training programs are: Intelligent, sophisticated, comprehensive, pragmatic and 100% successful. Technical instruction is always: leading-edge, progressive, visionary and proven effective. Reference material is produced by an award-winning studio for sport-cinematography xczone.tv.
There will ALWAYS be practices regardless of weather! -30c snowstorms, wind, ice storms, +30 etc, solar eclipses, earthquakes, solar mass ejections, bugs, Xmas, winter solstice, thunder, freezing rain, lightening, sand storms, darkness, sunshine, rain, hurricanes, local tornados, or chemical biological radiological nuclear weapons of mass destruction threats of terrorism ... especially in cases of alien invasions, the zombie apocalypse and mass extinction events.
Read our coaching philosophy. Check group training at www.trirudy.com for practice times and locations. Go to our virtual club house on facebook and interact in real time. Go to a comprehensive resource library for technique and training.
"From an every-man's point of view: Whether on shoes or skis Dave and Lise will take you places you never thought you could go. You'll run farther and ski faster than you ever expected to go regardless of your age or initial fitness level. And, best of all, you'll meet new friends and have a blast doing it!" - Robert Scruton
NETWORK OF EXPERTS that regularly participate in the group include: XC skiing, Alpine, Running, Ultra Running, Adventure Racing, Orienteering, Mountain biking, road cycling, cycle-cross, paddling, rowing, snowshoeing, boxing, wrestling, triathlon, swimming.
PROFESSIONAL SUPPORT CREW consists of: medical doctors, physiotherapists, massage therapists, sports psychologists, exercise physiologists, biomechanical engineers, nutritionists, wax technicians, national ski reps.
DEMOGRAPHICS Total number of adults in the program exceeds 1000. We have 5 instructors and 6 assistant instructors for skiing. The group contains 4 former Olympians, 16 National Team members and 5 professional athletes in a number of sports. 5% have never been on skis before 2% are recovering from injury 10% are beginners 25% are novices 60% are intermediate level 10% are advanced 5% are expert, elite or pro athletes Number of participants at a normal run varies between 20-150 people. Ages range between 16 to 65 with 75% of people between 21-45. 48% men and 52% women.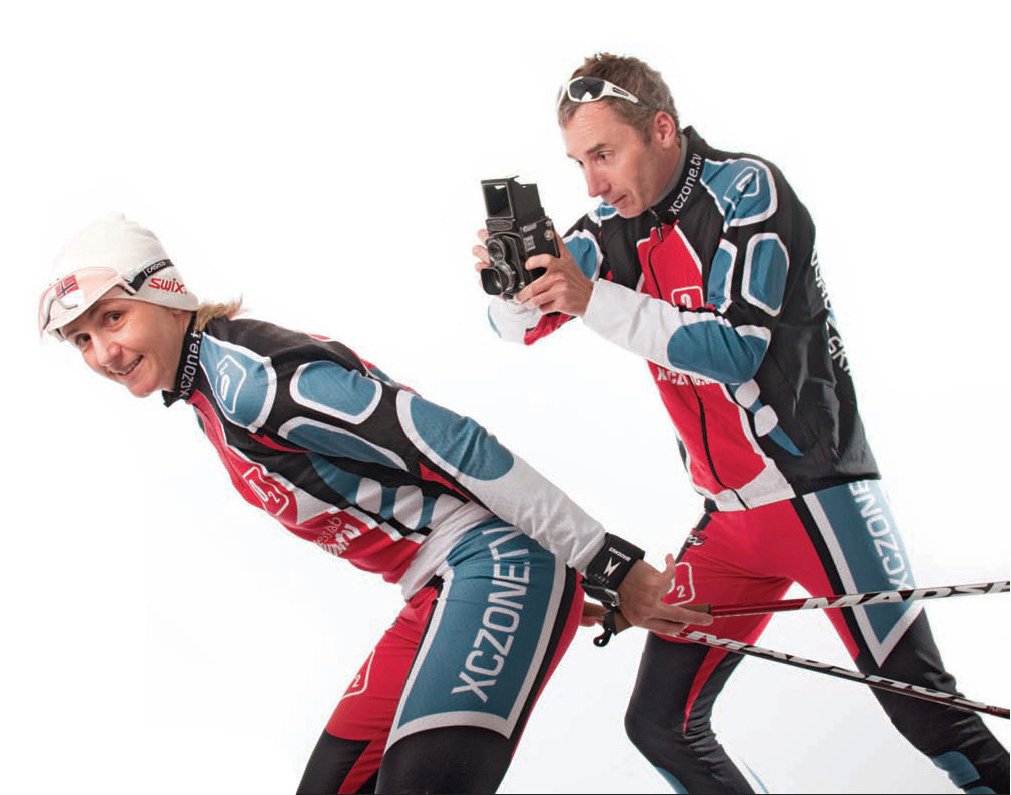 Natural fitness labs offers:
Expert-led weekly group training sessions
Instructional Videos and Special Resource Centre
Sports specific fitness testing
Training Camps
Cardio and strength annual training programs
Technique and fitness training
Special trail running seminars and clinics (costed option)
Certified coaching staff
Sports Medicine
Kinesiology expertise
Direct access to a network of experts in a wide spectrum of sports
Dave McMahon and Lise Meloche first met on the National Biathlon Team and formed a lasting personal and professional partnership centred around skiing.
Lise raced two Olympic games and 200 World Cups; winning 7 medals, including four (4) Golds.
Dave was Canadian National Champion, ranked 3rd in the World for summer biathlon, and represented Canada at the World Snowshoe Championships and World Loppet circuit. Dave is a pro-elite winter triathlete and trail runner.
Together, Dave and Lise: wrote the cross-country ski manual; built an independent film production company; produced several award winning films on skiing; launched a skiing channel viewership of two-million subscribers; and mentored thousands of people to ski through natural fitness lab - the largest adult skiing, snowshoeing and trail running program in the country.
They recently released a feature-length IMAX film in theatres called "Oxygen" about outdoor athleticism, empowered by women.
Who's Who in Canadian Sport, Volume 3 1999 by Bob Ferguson ISBN 1-894282-00-0.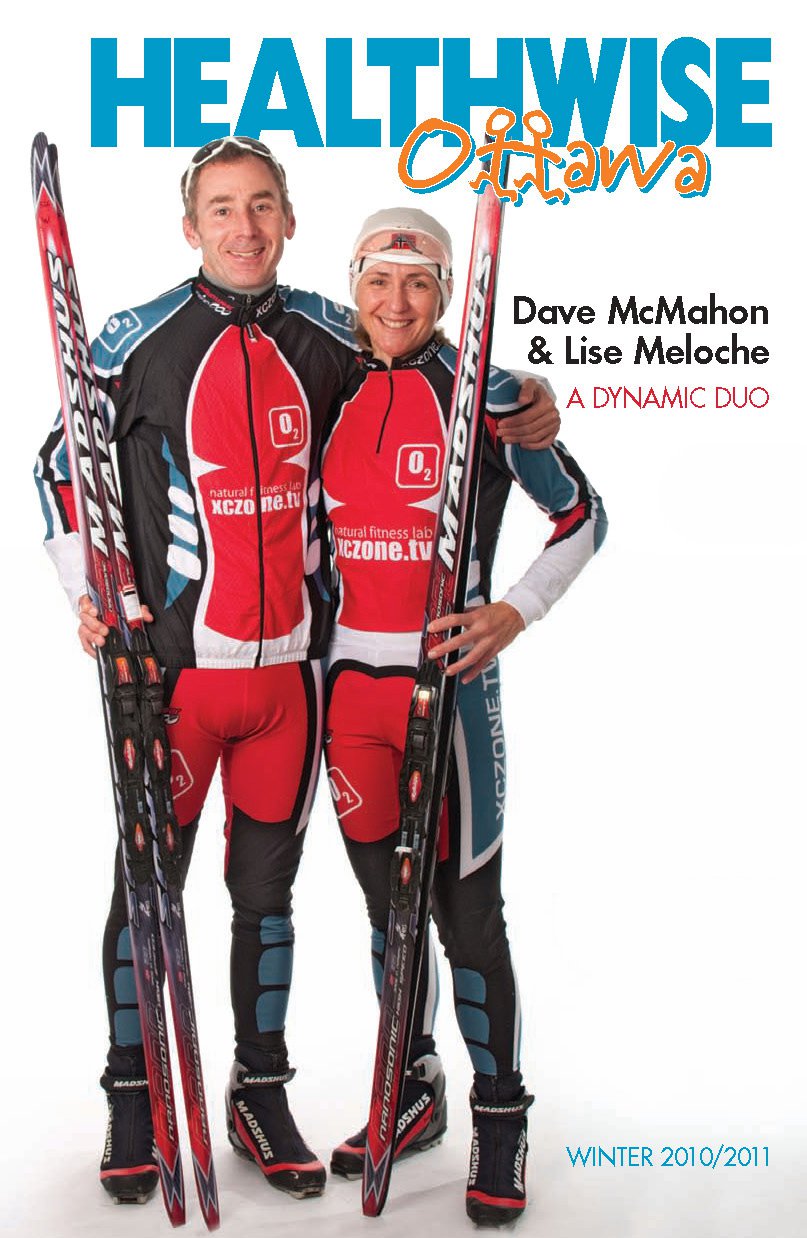 Read the Healthwise Magazine Article
We have assembled top-talent that would make a national team envious. It is certainly the strongest support team for any adult ski or running program in North America.

• Olympic Coaches and Athletes
• World Cup Medalists
• National Champions
• World record holders
• Physiotherapist
• Sports Psychologist
• Kinesiologist
• Strength Trainer
• Nutritionist
• Medical Doctors
• Wax and equipment technicians